Vol. 3.
"What Is Gaiko? - Thinking about Words"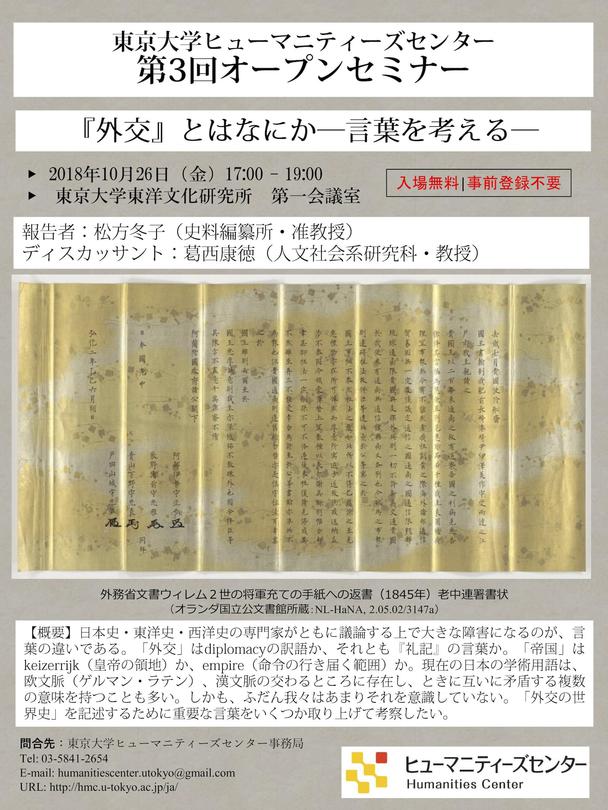 Date: 2018.10.26 (Fri) 17:00 - 19:00
Speaker: Fuyuko Matsukata (Historiographical Institute)
Discussant: Yasunori Katsusai (Graduate School of Humanities and Sociology)
Differences in words pose a major obstacle in discussions among experts in Japanese, Asian and Western history. Is the Japanese word gaiko a translation of "diplomacy," or is it a word derived from China's "Book of Rites"? Is the Japanese teikoku the same as the Dutch keizerrijk (an emperor's domain), or is it "empire" (the reach of a command)? In Japan today, academic terminology includes both words associated with a "European context" (i.e., Japanese expressions translated from Germanic and Latinate languages) and those associated with a "Chinese context." Furthermore, these words contain multiple, sometimes contradictory meanings that scholars do not often sufficiently consider in their research on the subject. In this seminar we will consider a number of key terms that shape how we speak about "the world history of gaiko."