Vol. 2.
Ono no Komachi within the Discourse of the Modern 'Beauty'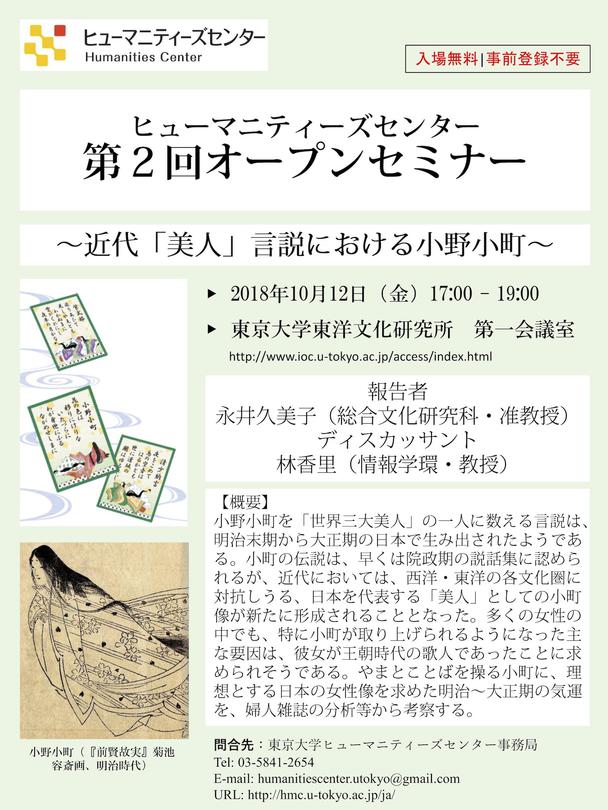 Date: 12th October 2018, 17:00-19:00
Venue: Conference Room NB01, 3rd Floor, Institute for Advanced Studies on Asia, The University of Tokyo
Speaker: Kumiko Nagai (Graduate School and College of Arts and Sciences, The University of Tokyo)
Discussant: Kaori Hayashi (Graduate School of Interdisciplinary Information Studies)
The discourse that Ono no Komachi was one of the "world's three most beautiful women" seems to have emerged in the period between the end of the Meiji era and the Taisho era. The legend of Komachi was recognized early on in a story collection of the Insei period; but in modern times, the image of Komachi was remodeled into that of a representative "beautiful woman" of Japan, which may be opposed to images of the "beauty" in the Western and mainland Asian cultural spheres. The principal factor in the selection of Komachi in particular among many women can likely be found in the fact that she was a poet of Japan's Dynastic period. Through analysis of women's magazines and other means, we will investigate the Meiji-Taisho-era tendency to seek an idealized image of Japanese womanhood in Komachi, a master weaver of the Yamato language.