Vol. 35.
[Author Talk] The British Empire behind Closed Doors: The Eastern Exchange Banks and their Activities in Asia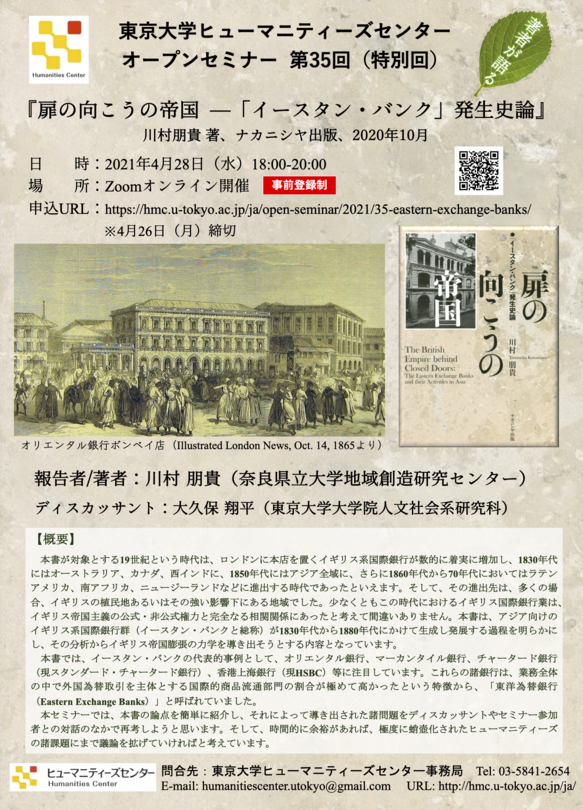 Date & Time: 28th April 2021, 18:00-20:00

Venue: Held online via Zoom

Speaker/Author: Tomotaka Kawamura (Regional Creation Research Center, Nara Prefectural University)

Discussant: Shohei Okubo (Graduate School of Humanities and Sociology, The University of Tokyo)

Organizer: The University of Tokyo Humanities Center
This book deals with the 19th century, a period in which the number of London-based British international banks steadily increased. Such banks expanded into Australia, Canada, and the West Indies in the 1830s, into all parts of Asia in the 1850s, and then into Latin America, South Africa, and New Zealand, among others, in the 1860s and 1870s. In most cases, these banks opened offices in British colonies or places under strong British influence. There can be no doubt that, during this period at least, the British international banking was completely intertwined with British imperial power, both formal and informal. This book sheds light on the process through which the British international banks focused on Asia (referred to collectively as the "Eastern Exchange Banks") came into being and expanded between the 1830s and the 1880s, and, from this analysis, seeks to deduce the dynamics of British imperial expansion.
It focuses on such leading examples of "Eastern Banks" as the Oriental Banking Corporation, the Chartered Mercantile Bank of India, London and China, the Chartered Bank of India, Australia and China (now Standard Chartered), and Hong Kong and Shanghai Banking Corporation (now HSBC). Due to the fact that international commodity distribution was closely connected to their businesses as agents of foreign exchange transactions, these banks were called "Eastern Exchange Banks").
In this seminar, we will provide a simple introduction to the points of discussion in the book and reconsider the issues identified as a result in the course of a dialogue between the discussant and seminar participants. If time permits, we hope to expand the discussion to include issues in the humanities that have been siloed to an extreme degree.
Relevant Bibliographic Information
Tomotaka Kawamura. Tobira no Muko no Teikoku--"Iisutan Banku" Hasseishiron [The British Empire behind Closed Doors: The British Eastern Banks and their Activities in Asia ]
(Nakanishiya Shuppan, published October 2020)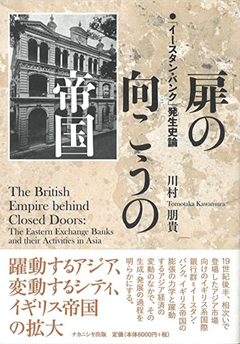 Tomotaka Kawamura, Ippei Sekido. Eiryo Indo ni okeru "Kabushikigaisha" no Chirigaku [Geography of Joint Stock Companies in British India]
(Humanities Center Booklet series Vol. 5, published September 11, 2020)