Vol. 25.
Experimental Psychology of Faces (2): Impressions of Faces Not Based on Facial Appearance Alone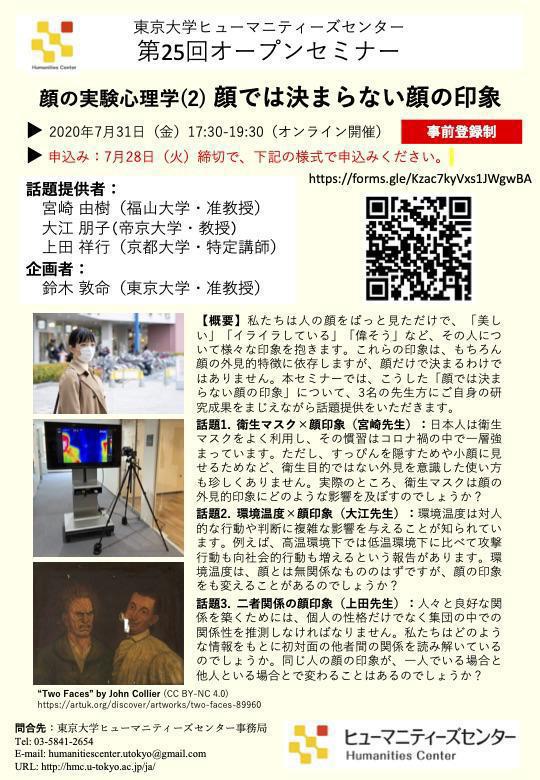 Date & Time: 31st July 2020, 17:30-19:30
Speaker: Yuki Miyazaki (Faculty of Human Culture and Sciences, Fukuyama University), Tomoko Oe (Faculty of Liberal Arts, Teikyo University), Yoshiyuki Ueda (Kyoto University)
Coordinator: Atsunobu Suzuki (Graduate School of Humanities and Sociology, The University of Tokyo)
With just a glance at someone's face, we form various impressions of that person ── "beautiful," "nervous," "arrogant," etc. Naturally, these impressions rely on the outward appearance of the face, but they are not formed on the basis of the face alone. In this seminar, three professors will present topics related to the subject "Impressions of faces not based on facial appearance alone," incorporating their own research results in their talks.
Topic 1: Face masks and impressions of faces (Professor Miyazaki)
Japanese people often wear face masks. This practice has become even more prevalent during the coronavirus crisis. On the other hand, it is not uncommon for Japanese to wear masks for cosmetic rather than health reasons ── for example to hide an un-made-up face or make one's face appear smaller. How do face masks actually affect impressions of facial appearance?
Topic 2: Environmental temperature and impressions of faces (Professor Oe)
It is known that environmental temperature has a complex effect on interpersonal behavior and judgement. For example, some reports state that aggressive behavior and prosocial behavior both increase in warm environments as opposed to cool ones. Though it would not be expected to have any connection to faces, could environmental temperature change people's impressions of faces?
Topic 3: Impressions of faces in two-person relationships (Professor Ueda)
To develop good relations with people, we have to make guesses not only about individuals' personalities, but also about people's relationships within groups. What sort of information do we use to decipher relationships between people we meet for the first time? Are there times when our impression of a person's face differs according to whether the person is alone or with someone else?