Vol. 30.
Research on Museum Principles: Space / Gathering / Experience (2)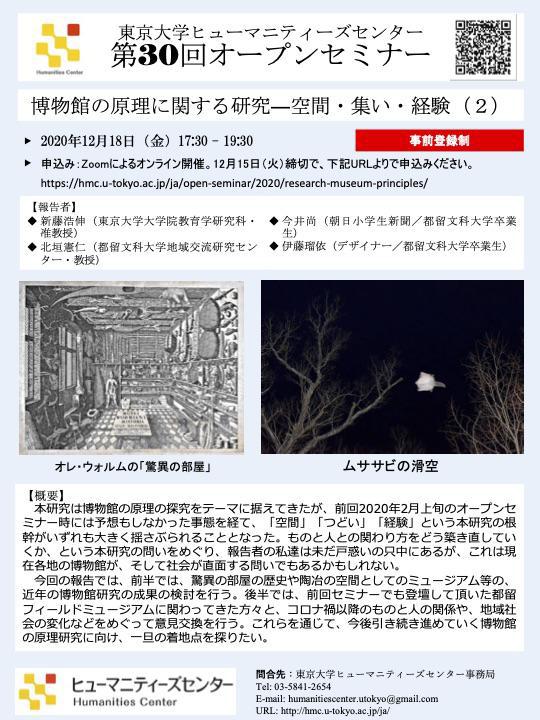 Date & Time: 18th December 2020, 17:30-19:30

Venue: Held online via Zoom

Speakers:

Hironobu Shindo (Associate Professor, Graduate School of Education, The University of Tokyo)

Kenji Kitagaki (Professor, Research Center for Community Collaborations, Tsuru University)

Sho Imai (Asahi Shogakusei Shimbun / Tsuru University alumnus)

Rui Ito (designer residing in Tsuru city / Tsuru University alumnus)
This project has been based on the theme of research on museum principles. However, after the previous open research seminar of early February 2020, the research foundations of "space," "gathering" and "experience" had all been seriously shaken by unexpected circumstances. We seminar speakers are still uncertain regarding the research question of how to reconstruct relationships between objects and people. This may be a question that museums everywhere and society as a whole are currently facing.
In the first half of this report, we will consider the results of recent museum research on such subjects as the history of "Wunderkammer (wonder-rooms)" and museums as educational spaces. In the second half, together with people who have been involved in the Tsuru Field Museum and also spoke in the previous seminar, we will exchange views on topics such as the relationship between objects and people and changes in local communities in the post-coronavirus world. Through these discussions we will seek provisional common ground with a view to continuing our research on museum principles.