Vol. 23.
Research on Museum Principles: Space / Gathering / Experience (1)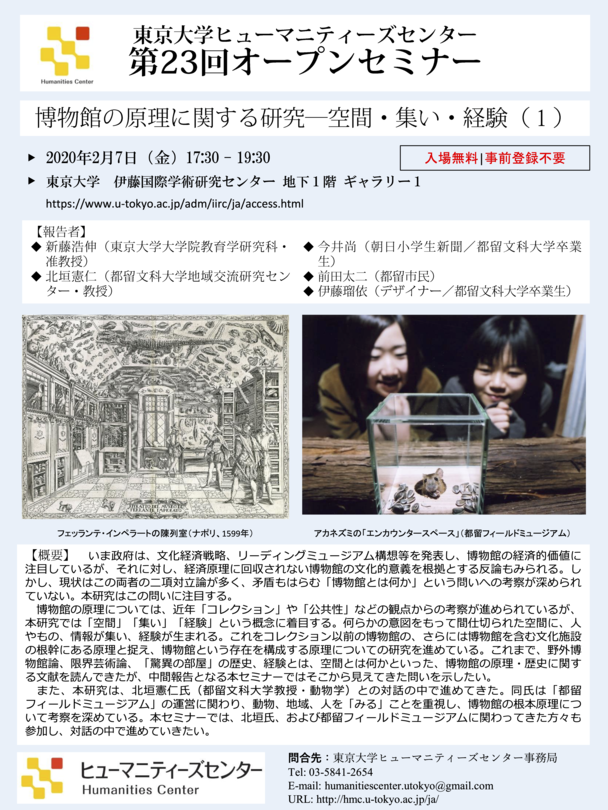 Date & Time: 7th February 2020, 17:30-19:30
Venue: Ito International Research Center, The University of Tokyo
Speaker: Hironobu Shindo(Graduate School of Education, The University of Tokyo), Kenji Kitagaki (Research Center for Community Collaborations, Tsuru University), Sho Imai (The Asahi Gakusei Shimbun Company), Daiji Kitagaki, Rui Ito
Recently the government has been unveiling cultural-economic strategies and initiatives (such as "Leading Museums") and focusing on museums' economic value. There have been objections to this approach based on museums' cultural significance, which is not incorporated into economic principles. Currently, however, we are hearing many binary arguments about the two perspectives, and contradiction-filled inquiries into the question "What is a museum?" have not been taken to a deeper level. This research will focus on that question.
In regard to the fundamental principles on which museums are based, inquiries have been conducted in recent years from the perspectives of "collections" and "publicness." This research, however, will focus on the concepts "space," "gathering" and "experience." In a space divided up with a certain intention, people, objects and information gather and experiences arise. We have been viewing this as the principle at the foundation of pre-collection museums and cultural facilities in general (including museums), and studying the principles that make up the phenomenon of the museum. Thus far we have read books and documents related to museum principles and history, such as open-air museum theory, marginal art theory, the history of "wonder-rooms," and the meanings of experience and space. This seminar will serve as an interim report in which we outline the questions that have emerged from this information.
The research has been conducted in the context of discussions with zoology professor Kenji Kitagaki of Tsuru University, who is engaged in the management of the Tsuru Field Museum. He places importance on "seeing" animals, areas and people, and has been working to deepen studies of the fundamental principles of museums. This seminar will be carried out through discussion with Professor Kitagaki and others who have been involved in the Tsuru Field Museum.